This series was originally shared in my Substack newsletter. As I learned to look for the fruit of the Spirit in different areas of life I was struck by the way various literary heroines displayed the fruit. It was incredibly difficult to narrow down the list. Maybe someday I will explore more literary heroines!
Love: Little Dorrit By Charles Dickens
Amy Dorrit's love for her family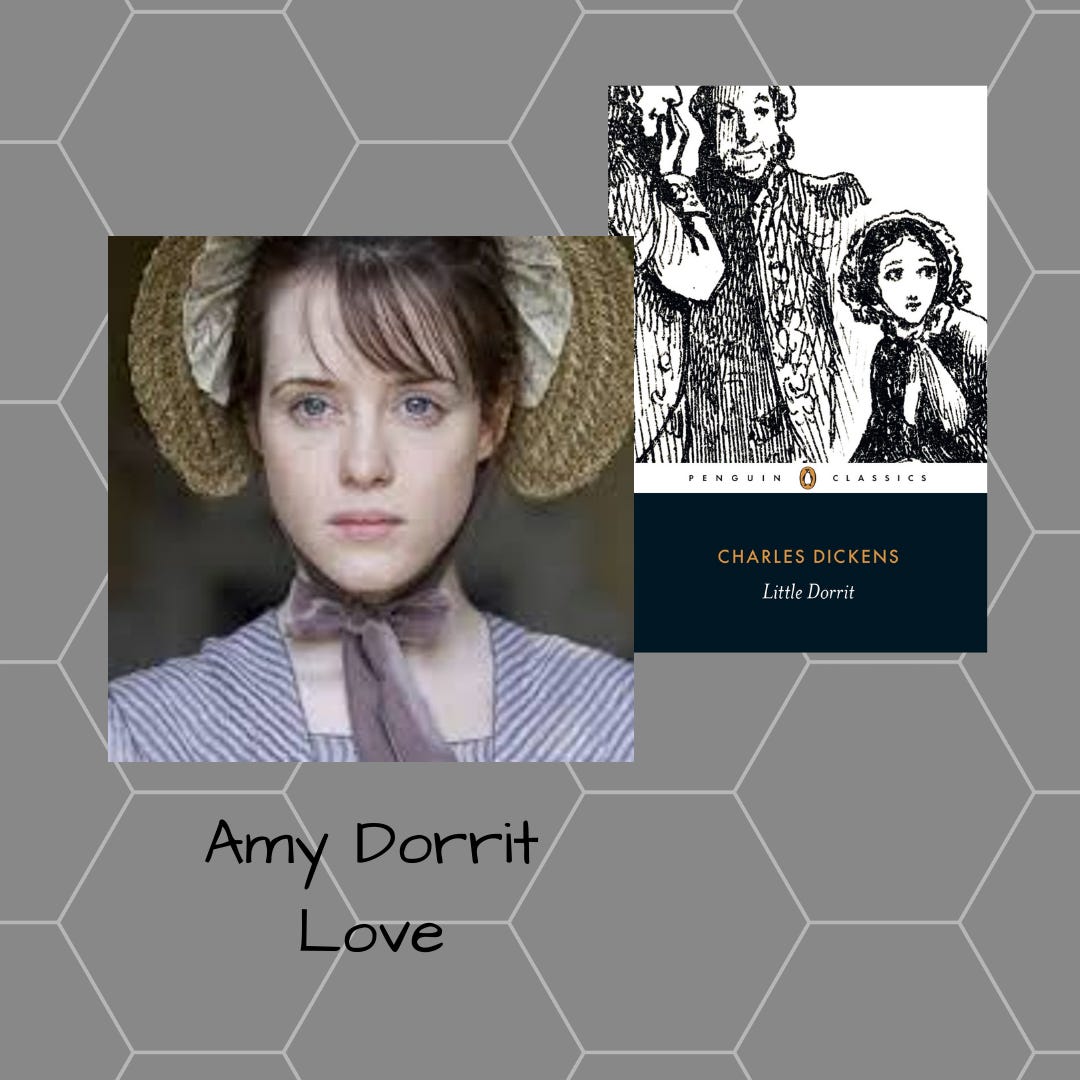 "There was a classical daughter once – perhaps – who ministered to her father in prison as her mother had ministered to her. Little Dorrit, though of unheroic stock, and mere English, did much more in comforting her father's wasted heart upon her innocent breast."

Charles Dickens, Little Dorrit
Charles Dickens has created some of the most well-loved and most hated characters in his plethora of work. Sometimes there is redemption, as in the case of Ebenezer Scrooge. At other times his characters grow in the natural course of life, David Copperfield or Pip. Occasionally there is a remarkable character who remains constant no matter the circumstances of their life. Amy Dorrit is one such character.
From the initial upbringing in the Marshalsea Prison to a rise and fall in fortune she is gracious to all she meets. From poor house to parlor she treats all with dignity even if their behavior is completely wrong. Amy does not ask for love but gives it freely. She helps her father, brother, and sister, who only act in self-interest. Amy cares for her friends and remembers their needs and preferences. She falls in love but does not pine when that love is not immediately returned.
Amy is most happy when she can care for those in her life. In fact, when wealth comes to her family she is uncomfortable. Her father wants her to be ornamental. Wax fruit does not provide the same joy as real fruit. The fruit of the spirit begins with love, not being on display.
"To have no work was strange, but not half so strange been gilded into a corner where she had no one to think of, nothing to plan or contrive, no cares of others to load herself with."

Charles Dickens, Little Dorrit
The fruit of the spirit is evident in Amy. She sees the folly of her family, yet still only wishes to do good things for them. She is a loving woman who completely gives herself to care for others.
Dickens manages to give Amy a happy ending, the love of a kind man. She will have a life that promises she will continue to care for those she loves.
"They went down to a modest life of usefulness and happiness."

Charles Dickens, Little Dorrit
Not a life free from care, but a life of truly caring for others.
We do not get to choose the family we are born into. Each family has its idiosyncrasies. In some cases, family hurts us deeply. There may be times we have no choice but to separate from them. How we love our family looks different during various life stages. I am watching elderly grandparents decline, and parents trying to navigate middle age. My siblings are in the thick of life building, and I have children that I am striving to raise well. Like Amy Dorrit, I hope that I can meet the needs of each with generous compassion and understanding.
literary heroines links
Watch Claire Foy masterfully portray Amy Dorrit in this BBC series.
Read on your Kindle or a paperback. It is one of the easier Dickens for those challenged by classics.