What Royalty has in common with Evangelicalism
The library holds list for "Spare" by Prince Harry was the biggest reason for me not jumping into the conversations immediately upon release. Instead, my timing means I finished the book just before the Coronation of Charles the Third at the beginning of May. I read the audiobook and I have thoughts.
Royal Watching
I have been a royal watcher on a small scale since the nuptials of William and Catherine, which came shortly after my own wedding. Kates' fashion has inspired me. As a history buff enjoyed learning about the royal family's story intrigues me. Watching from a distance and busy having children of my own, following the stories was simply a pastime. When Meghan came on the scene, I watched with fascination as an American entered the royal fray. I followed royal Instagram accounts and watched Harry and Meghan's wedding unfold on the Internet. For me, it was a fun distraction. Not being part of the Commonwealth, I regarded British royalty as little more than celebrities with deep roots in history.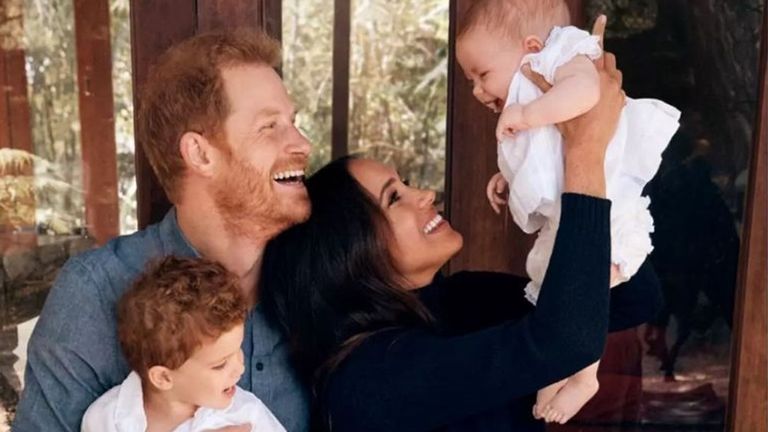 When Harry and Meghan left England, I had questions. What was this all really about? How had it come to this? Was Meghan really that big of a diva? I watched the Oprah interview and noted some of the bizarre reactions. I don't read the British press and am skeptical of the American press as a general rule. None of these places could possibly tell the whole story. And of course, it was 2020, so there were more pressing issues than the chaos of a celebrity family, amirite?
Reading Harry's side of the story was fascinating. It answered questions, left a lot of things unanswered, and generally gave me a lot of compassion for what he and Meghan have experienced. It is important to note that there are still several silent sides to this story.
A few words of warning for sensitive readers. Harry swears like a sailor and uses weed and other substances. He describes soldiering and war, as well the trauma of coping with his mother's death, and Meghan's depression. If any of those are triggers for you, go in carefully.
Spare: A role with specific expectations
Harry sets it out clearly: William is the heir and Harry is spare. It's the reason that each of them is given different freedoms and responsibilities. They were born into these roles and they are expected to live in specific ways. Much like the evangelical church's parameters for women. Get married, support your husband, have babies. Sure that may look different in each family but the basics are the same. The weight of these privileges and obligations becomes more than Harry can bear. The pressures come from within the family and from the press.
The British Royal family lives in a world apart from the average citizen. That role comes with privilege and compromised privacy. There are also limits financially. Harry could only spend money as Charles allocated. Much like the stay-at-home daughter movement, his life was limited by parental choices. Much has been said about how Charles was jealous of the attention Diana received. That theme is definitely echoed in Harry's story as well. Charles is a distant father, and Camilla is a strange stepmother. Kate and William are caught in the tangled family dynamic as well.
In fact, there are many similarities between Prince Harry and Mirabel from Encanto. A person who doesn't feel they fit into the role expected of them. Unlike the song-and-dance formula for happily ever after, Harry's story still leaves much unresolved. Charles and William are still living, maybe thriving in the roles they have. The press continues to be a toxic player in the Royal family's lives.
Therapy is Valuable
Harry talks about therapy. He shares the way it was rebuffed, the trial and error of finding the right therapist. Most importantly he does not make Meghan his therapist. Having a supportive partner is huge, but they cannot be the only person you rely on to help you process complex trauma.
As Harry admits his weaknesses and what he has learned there is great hope that he and Meghan and their children will have a safe and contented life. They have meaningful work they want to engage in. And yes, that means being in the public eye. Many people I know are quick to bash them as attention seekers.
But Jesus bent down and started to write on the ground with his finger. When they kept on questioning him, he straightened up and said to them, "Let any one of you who is without sin be the first to throw a stone at her." Again he stooped down and wrote on the ground.

John 8:6-8, NIV
Our culture is full of attention seekers. Attention is the commodity of this generation. Like wealth, some have more to start with than others. So before you go pointing fingers, take an honest look at your reasons for having social media. Right now Harry and Meghan are choosing the narrative the press spins around them, because they have been victims of silence in the past. The trauma of being silenced is facing a reckoning on many areas of society today. Spare is Harry's way of breaking the silence, and sharing his voice.
Therapy is where I have unpacked the complicated family dynamic I live with. Spiritual Direction is where I work on my faith and soul. Medications help with depression and anxiety, as prescribed by my primary doctor. Whether you are a prince or a former evangelical, or come from some other toxic situation, you have options for caring for your body, mind, and soul. You don't have to write a bestseller or even a blog to bring healing to your life. I am glad Harry did, and I look forward to more days of Royal watching with the added insight and sympathy I have gained from reading his book.